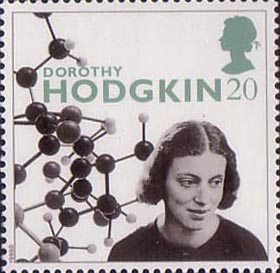 On this day in ...
…
1994
(15 years ago today)
, British chemist
Dorothy Crowfoot Hodgkin
(left) died in Ilmington, Warwickshire, England. Among her most influential discoveries was the structure of vitamin B12, for which she was awarded the 1964
Nobel Prize in Chemistry
. In 1969, after 35 years of work, Hodgkin was able to decipher the structure of insulin, which she considered her greatest scientific achievement. She cooperated with laboratories active in insulin research and traveled to give talks about insulin and diabetes. Hodgkin also was concerned about social inequalities and stopping conflict: from 1976 to 1988, she was President of the
Pugwash Conferences on Science and World Affairs
, an international organization that works toward reducing the danger of armed conflict and global security threats.
(
credit
for 1996 British stamp honoring Hodgkin as 1 of 5 "20th Century Women of Achievement")
…
1987
, Indian Prime Minister
Rajiv Gandhi
(below, at left) and Sri Lankan President
J. R. Jayawardene
(below, at right)
signed the Indo-Lankan Pact
, also known as the Indo-Sri Lanka Peace Accord.
(
photo
credit
)
The agreement aimed to
end ongoing anti-insurgent operation
by Sri Lankan forces in the Northern peninsula. Sri Lankan troops were to withdraw to their barracks, and the Tamil rebels (mainly the
Liberation Tigers of Tamil Eelam
, also known as the Tamil Tigers) were to disarm. India agreed to end
support for the Tamil separatist movement and recognize the unity of Sri Lanka. Under the accord, India pledged military assistance to promote peace. The pact did not in fact put an end to conflict. Just this past May, the Sri Lankan military crushed Tamil Tiger rebels, in operations that, as IntLawGrrl
Jaya Ramji-Nogales
posted
here
and
here
, raised humanitarian law concerns.
(Prior July 29 posts are
here
and
here
.)