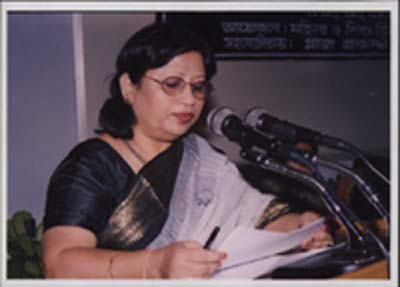 On this day in ...
…
1948
,
Ferdous Ara Begum
(left), member of the
Committee on the Elimination of Discrimination Against Women
and a specialist on gender issues, was born in Bangladesh.
(photo
credit
)
Begum has worked for many years in areas related to women and children's rights. She worked for the government of Bangladesh as Joint Secretary in the Ministry of Women and Children Affairs, providing social and legal protection for women and children. As a Board Member of
Grameen Bank
, she helped offer microcredit to rural poor women in Bangladesh. She has also published on trafficking and dowries, and given talks on HIV/AIDS prevention and awareness.
…
1934
(75 years ago today)
, French pilot
Hélène Boucher
(right) became the fastest woman in the world.
(photo
credit
)
She beat the record by flying an average of 485 kilometers per hour (301 mph) over 100 kilometers (62 miles). She also held the altitude (5,200 meters, or 3.23 miles) and 8 other world records. Boucher, a stunt pilot, was the 1st woman buried at
Les Invalides
. She was posthumously dubbed Chevalier of the Légion d'honneur.
(Prior August 11 posts are
here
and
here
.)